Managing Operations in a Rocketship
When we think of fast growing companies, attention is usually focussed on a raging share price, market share, revenue growth or even founder wealth. Spare a thought for those within the organisation, who are tasked with running the show while others try to hang on.

At fast-growing Modica Group, Head of Operations Bronson Pereira is tasked with ensuring everything runs smoothly.

Born and raised in Wellington, Bronson made an early choice between a career in tech and one in hospitality. "Mum made my choice easier when she told me chefs get paid poorly and work terrible hours, while IT professionals get paid a fortune and do sod all". While the reality may be different, Bronson is sure he made the right decision. A talent for rugby, softball and fencing also meant he gained valuable team and leadership lessons - most of which he used to achieve his current role.

So how does Modica Group maintain its growth? Bronson suggests 9 key factors behind their success.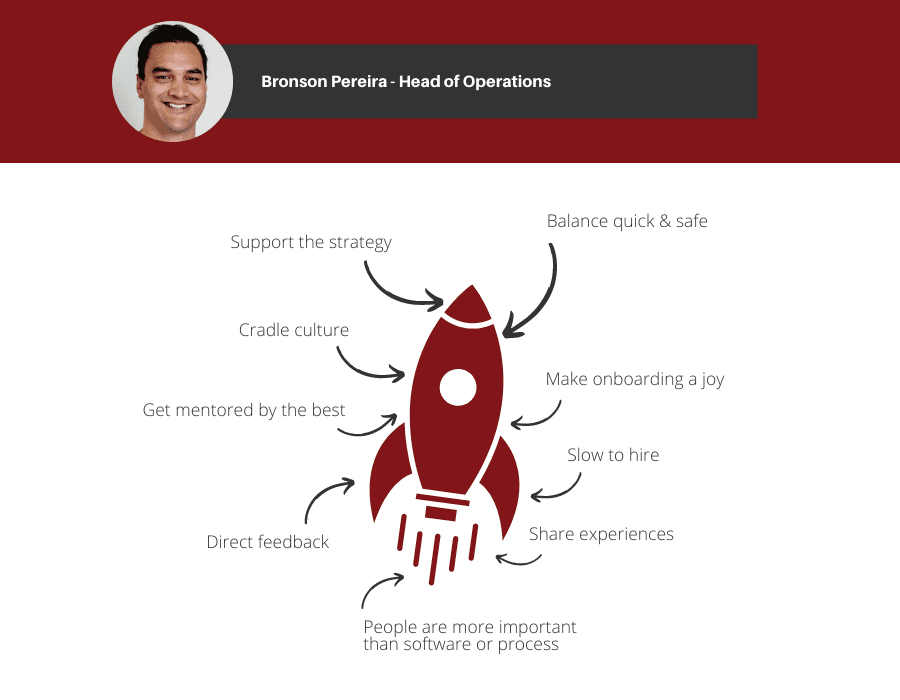 Support the strategy
While there are many things an organisation could do, Bronson stresses activities must be focussed on achieving the set strategy.
Balance quick and safe
Velocity is important, but acting too quickly can put processes or targets at risk. New software is sexy, but take the time to read the fine print, plan the rollout and consider the impacts on the wider organisation.
Cradle culture
Growth usually means more people and locations. Take steps to ensure the culture is enhanced not diluted.
Get mentored by the best
You can't choose your family, but you can choose who to learn from. For Bronson, that means learning from brilliant COO and co-founder Simon Stokes.
Make onboarding a joy
New starters will formulate a large proportion of their organisational view by how they're treated in the first 3 months. Growth doesn't mean take the baton and run, but rather here are the tools you need, here are key people to spend time with, and constantly checking on progress.
Slow to hire
Take the time to employ the best people. Test them on their values, not just their skills.
Direct feedback
Be quick to praise, but don't shy away from providing honest feedback if something needs to change. In a high-growth environment, issues must be addressed and fixed quickly.
Share experiences
No one has all the answers. Ask your networks how they address certain issues or how they rolled out certain software. Better to be humble and inquisitive, than make avoidable mistakes.
People are more important than software or processes
It's easy to geek out on a shiny piece of tech or a whiteboard process, but it's only ever an enabler - and never a replacement- for a smart, motivated group of people, working together to achieve a common goal.

Talk to an expert