Rich Media Messaging (RMM) is a mobile messaging service that adds a richer experience than traditional SMS. The recipient enjoys rich media content through a personalised journey. Enabling customers to self-serve, increases engagement and efficiency.
All industries can benefit from incorporating rich media content in their messages to drive more proactive and actionable communication. By adjusting the types of messages, companies from retail, marketing, financial services, utilities, travel and logistics can increase collection rates, improve customer engagement and increase operational efficiency.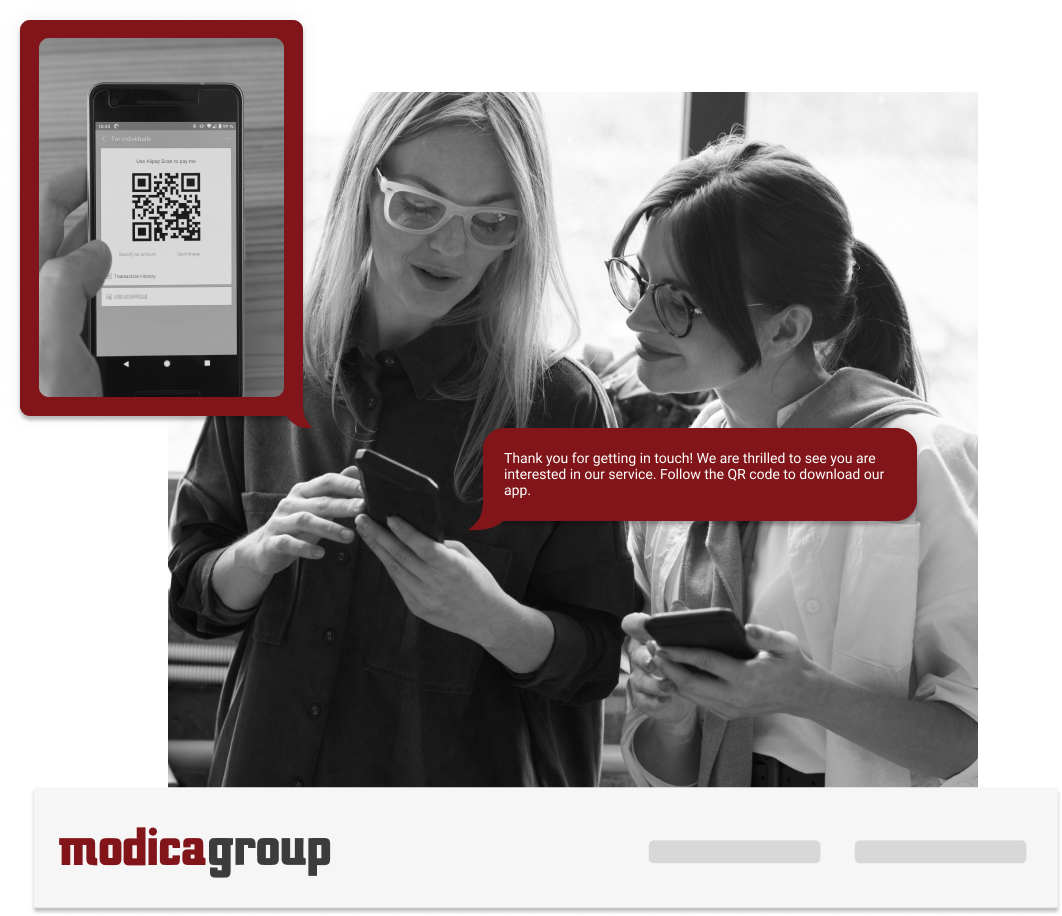 Benefits of Rich Media Messaging
Achieve click through rates in excess of 60%, with an increase in conversion rates of 39%
Gain better insight into your customer behaviour through engagement analytics at a "per pixel" level
Create, manage and send multi-tier campaigns via our easy to use, no code Campaign Builder
Initiate messages via SMS, email, QR codes and WhatsApp for Business
Create powerful communications and enable business processes by integrating with the open API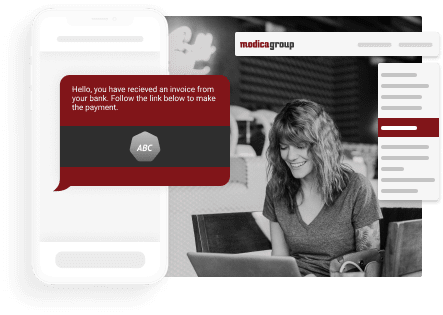 Payment Collection with Rich Media Messaging
Many companies are thinking of new ways of collecting payments. While some are combining different payment methods via calls, post and emails, we propose a smarter approach. The mobile payment solution via Rich Media Messaging has proven more effective than email or phone calls, with an engagement rate of over 68% and a payment rate of up to 50%.

Calls & Letters
Delivery of postal payment reminders can't always be guaranteed. Chasing letters can be time-consuming and costly. Telephone and voicemails can be expensive and they are usually avoided by customers.

‍Text & Email
‍Going beyond delivery methods, the style and content of mobile payment reminders matters to consumers. People are more likely to respond to a late payment reminder if the message was friendly and helpful.


How Rich Media Messaging can enhance your business?
Support secure online payments via: PayPal, Stripe, PaySafe, Global Payments and others via our integration with their Hosted Payment Solutions.


Let's Discuss RMM
Utilise fully customisable branding, logos, fonts, video and image carousel content. Personalise call-to-action buttons for bigger impact. Provide better customer experiences by generating QR codes and barcodes for coupons, loyalty cards, event passes and in-store credit.


Ensure a customer can upload an image or file via their camera or from their documents via RMM.


Sell your app via RMM on the App Store or Google Play with a short customer journey.


Ensure you customer can submit a signature if required. This is perfect for the insurance industry.


We support chatbot functionality directly from RMM.


Provide a better customer experience by generating QR codes and barcodes for coupons, loyalty cards, event passes and in-store credit.


Integrate with any third party service provider, such as chatbots and CRM via the RESTful API.


Consolidate digital, mobile and social channels into a single platform. Deliver results faster, reduce costs and improve the user experience.


Experts in mobile communication
Expert service and advice
We won't bounce you off to a contact centre. Our team is available 24/7 to support you. We have extensive resources to make you a messaging guru and ensure your service is a success.
Integration
Modica's Messaging Platform can integrate with your preferred email, CRM, marketing and social applications. Existing integrations include SalesForce, Marketo and Adobe Campaign.
Real-time dashboard
Review the performance of your services in real time via your secure dashboard. View sent and received message volumes, track delivery receipts and analyse your performance for insights.
Compliance
Global messaging can be a regulatory minefield. Our in house team will work closely with you to assist with queries around industry guidelines and government regulations.
Testing environment and QA
Our Technical and Service teams support you throughout the testing, migration and launch process.
Market-specific expertise
Chances are we have experience in your market. Whether products or services, public or private sector, our experts tailor solutions to solve your needs.