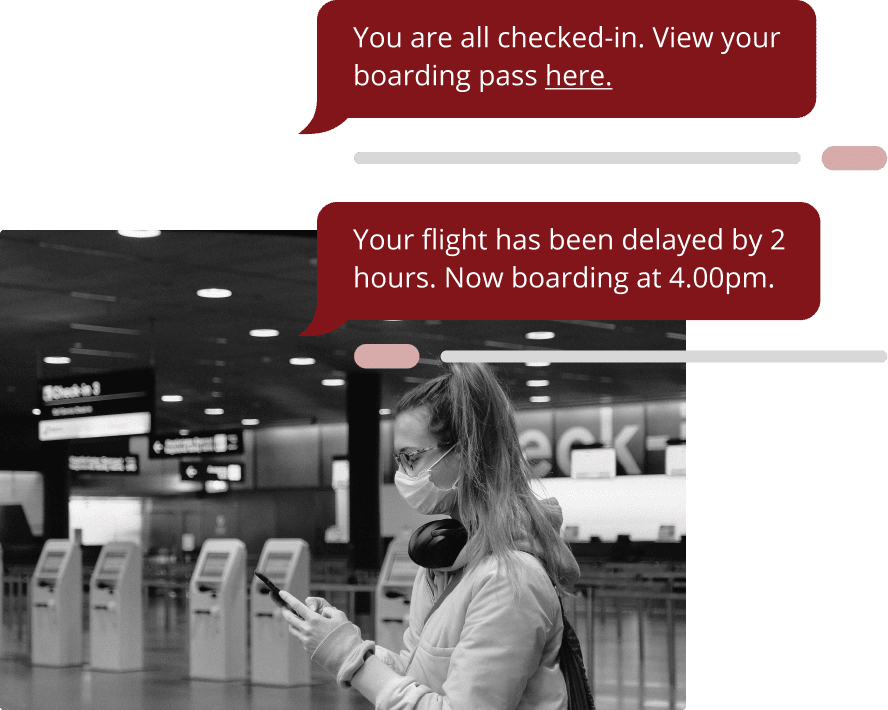 Take advantage of wholesale rates. Send messages worldwide.
We are a message aggregator; an organisation that acts as a middleman between application and content providers, and mobile carriers.
‍
With years of experience in messaging, millions of SMS delivered daily worldwide, high throughput and competitive rates, we provide a State-of-the-art platform which is why many banks, governments and large enterprises trust us to send their mission-critical messages.
State-of-the-Art Platform
With 99.9% uptime, you can trust that your messages will be delivered.
900+ Global Connections
Broaden your communication with global connectivity.
Secure Connectivity
Reliable data encryption using TSL protocol.
Programmable SMS
Easily connect via our REST or SMPP APIs, using your choice of developer language.
24/7 Support
Access to experienced local engineers to assist you when you need it.
One Platform, Global Delivery
Send SMS, MMS or RMM globally from one robust, unified platform.
High delivery rates
Higher delivery rates result in higher conversion rates for your customers.
Reporting & Analytics
Monitor handset delivery from all carrier networks, including sent, pending and failed messages.
Compliance
Our in house team will work closely with you to assist with queries around industry guidelines and government regulations.
SPAM FILTERING
Our anti-spam engine ensures that messages with questionable content (i.e. phishing and scams) are not sent. This makes it difficult for fraudulent traffic to enter our network.
SMS FIREWALL
All SMS traffic is authorised. It is delivered through legal channels without grey routes to help operators avoid losses and secure revenues.
WORLDWIDE ACCESS
With large network of existing customers & switches all over the world, we provide access to your network for all major international brands – all to ensure that your subscribers reliably receive SMS messages as soon as possible.