We are delighted to announce that our CEO and co-founder, Stuart Wilson, has won EY's Master Entrepreneur of the Year!
This prestigious award is assessed from a panel of previous winners and successful business leaders. The criteria evaluates the entrepreneur as someone who sets high standards, takes risks and perseveres through significant challenges with new learnings and vision for the future.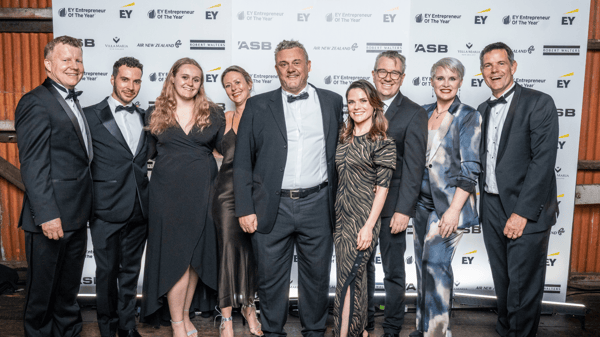 Stu is a co-founder of our global enterprise messaging company, Modica Group. His energy, passion and humour that we all know well, helped drive Modica's last 20 years of growth from an innovative start up to an increasingly global company with 100+ employees. Amongst many emerging trends and technologies, Modica continues to position strongly within the fields of SMS, CPaaS, AI/analytics, payment and fraud protection.
"I find the challenge is to hold strong to your vision, and stick with it even if it's not yet performing. It's important to be strong enough to change it when you fail, whilst taking stones from the naysayers, the do-gooders, and the more challenging traditionalists. Surrounding yourself with the right team to succeed is essential, but creating the right environment for that team to thrive is what makes it work."
At Modica, Stu has spent a lot of time building an encouraging, supportive environment. Even as a startup, Modica has funded birthday leave, staff lunches, free healthcare, death and disability insurance, home phone and internet usage. This value system is also extended to charities through services in kind (usually SMS donations), many of which are charities of interest for staff. Modica is proud to have a culture formed from intelligent, capable teams of people and encouragement of high standards of work.
With the help of Stu's fearless leadership, Modica successfully navigated through challenges such as Covid. From 2020 onwards, the creation of a flexible working policy was particularly appreciated in which employees have the freedom to do their jobs from any location and work the hours that they feel are comfortable. The level of trust between Modica and its employees allows for start times to be changed with no objection and more time to be spent with family.

"I believe in walking the talk rather than writing the policy for PR reasons. In that regard, we have massive diversity at Modica with 11 nationalities across 100 staff and a large number of women in tech. I close with this C.S. Lewis quote; "Integrity is doing the right thing even when no one is watching. To which I add…'even when you are broke.'"