Business Continuity Planning
Execute your business continuity plan with SMS
SMS is a clear and effective communication channel.
With SMS, you can disseminate information quickly.
SMS can help you automate the provision of information.
SMS provides a low-friction way of responding.
Connect and engage with your customers
Our SMS platform will unlock your communication allowing you to better plan and communicate in emergencies.

Manage business communications centrally, streamlining BCP processes: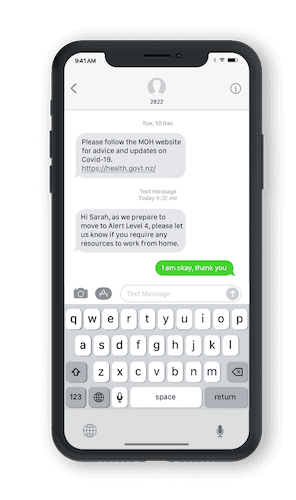 How SMS limits the spread of disease
During a pandemic, quick and effective communications are pivotal in limiting the spread of disease.

One Australian hospital recently had a patient in the Emergency Department, who later tested positive for the measles. The hospital reached out to us with a need to contact any patient or staff member that may have been in contact with the infected person. Within a matter of hours, we were able to get the hospital up and running with an SMS solution that allowed them to send out a broadcast. The message contained information on the disease symptoms and what to do should they start feeling ill.
"At Modica Group, we're committed to providing the most reliable communication at times like we're facing right now. We encourage you to use SMS to cut through the noise for your most critical messaging. It's our mission to help organisations keep people safe and to minimise impacts to organisations and people."
Ensure your business continuity messaging strategy performs
SMS is the most engaging form of communication available. The short form means people know the message will be concise and important. For many organisations SMS is the most under-utilised channel. A good strategy covers multiple formats, messages and actions to be taken.
‍
Here are some top-level considerations for your messaging strategy:
Modica SMS solutions
All-in-one platform
Use a single, unified platform to send all your business communications. Our web-based dashboard gives you real-time visibility of all of your messages.

Contact us today
API documentation
For developers, by developers
Our APIs are designed with developers in mind. With a choice of languages, it's that much easier to integrate.


The reporting dashboard allow users to view status reports (DLR), opt-outs and usage.

Read our API Documentation.
Security
We pride ourselves on reliable technology
With 99.9% uptime and over fifteen years' experience in the financial, healthcare and Government sectors, you can trust us to send your messages securely and on time.

Learn more about Security.
Customer Stories
Our clients span the Telecommunications, IT, Finance, Government, Health, Education and Media Sectors.

They trust us to manage their mission critical messaging across the globe.