Messaging During The Holiday Season
It's the silly season and that means lots of public holidays, staff travel and often, office closures. While lots of focus is given to the work Xmas party, not enough attention is directed to ensuring your Customers know how to contact you during this period, and when you are back on deck. Here is our best practice list for messaging during the holiday season.
Step 1 - Bulk SMS
One of the most effective ways to connect with customers is to send a custom SMS (via online platform or email). The SMS open rate is 99% with 97% of messages read within 15 minutes of delivery. Advise customers of when your organisation will close and reopen, and provide contact options during that time.
‍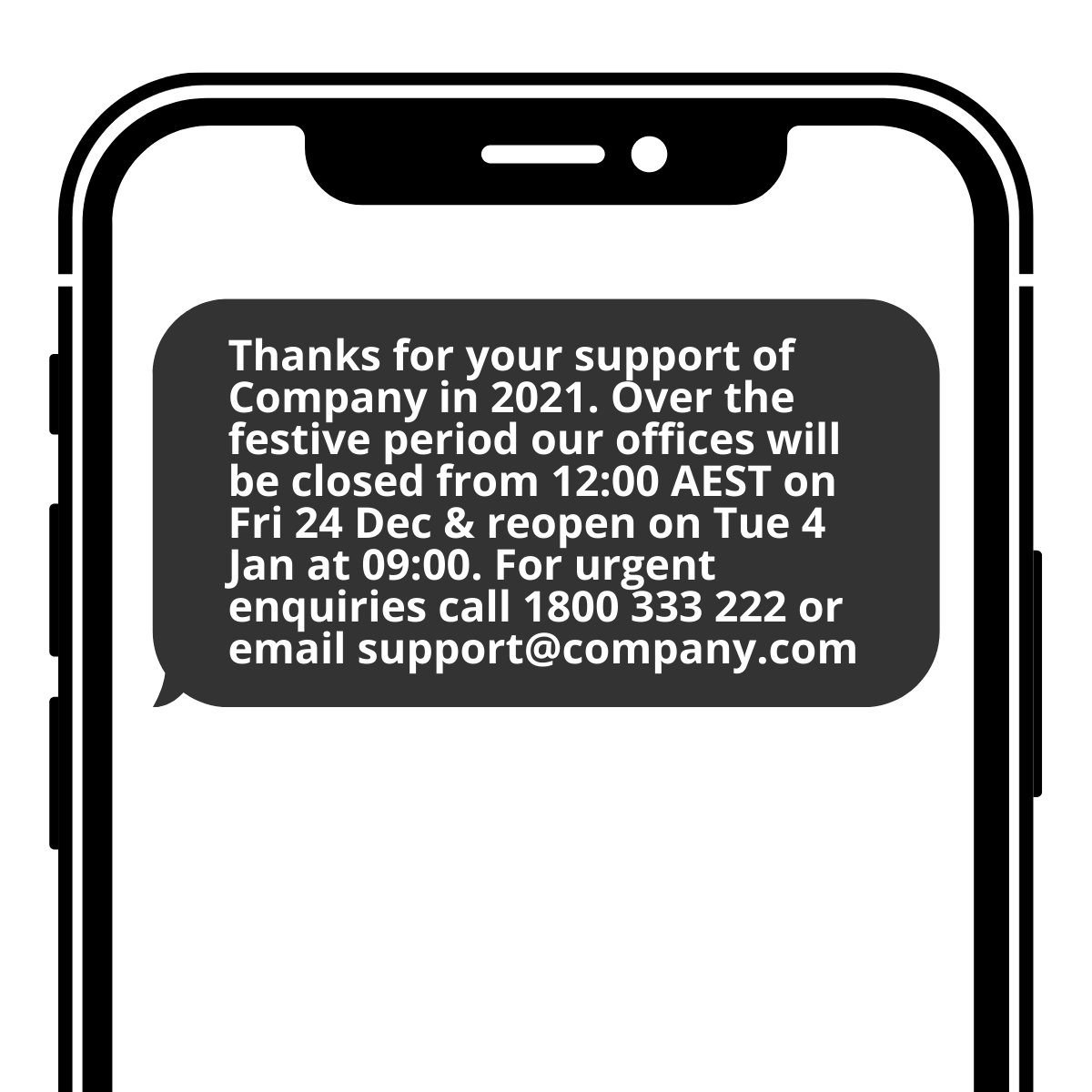 Step 2 - Bulk email
In addition, it's prudent to send an email to your clients with an expanded version of the SMS content. Here is an example:
It's been another busy & exciting year and we really appreciate your continued support!
Our team is taking a break over the festive period so our offices will be closed from 12:00 AEST on Friday 24 December and will resume operations on Wednesday 5 January 09:00 AEST.
During this time, we will have a reduced number of staff available.
If you need urgent assistance, you can call one of the following numbers:
AU +1 800 255 555
NZ 0800 88 11 22
US +1 800 599 3333
Any other requests can be directed to our support team by emailing support@company.com. Alternatively, you can email your Account Manager or Service Manager directly. Our teams will respond when business resumes on 4 January 2022.
Step 3 - Out of Office Email
If you really care about your customers, ensure your team members set an Out Of Office email response that includes useful information on what can be done in their absence. Here is an example:
Thanks for your email.


I will be out of the office from (Date) until (Return Date).
If your matter is urgent you can contact (contact person with contact details) or send an email to (support@company.com) for assistance.
Sincerely,
[Your Name]
Talk to an expert