The flexibility and reach of SMS makes it an indispensable business tool during emergency situations.


The dramatic impacts of climate change and conflict have challenged Governments and organisations around the world. Trusted institutions, large employers and essential services have all been forced to review how they communicate with citizens, customers and each other. Here is an example of how SMS has come to the rescue.


Emergency alerts on the eve of a cyclone
Our client is based in one of the largest cities in northern Australia. The tropical location means locals can be subjected to floods and cyclones - with the frequency and impact increasing recently. This presents an obvious civil emergency threat that must be mitigated by their City Council. It was on the eve of one such storm that Modica came to the rescue.
To prepare locals for the upcoming cyclone, the Council needed an emergency SMS alert system – functionality their previous provider was unable to deliver. In the space of 24-hours Modica was able to achieve a solution, including testing and training. SMS communications were sent throughout the night and into the next day of the cyclone.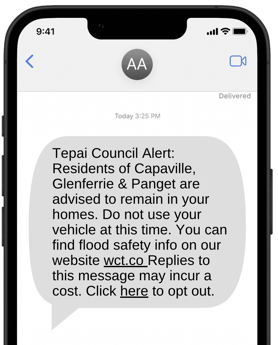 Other important uses of SMS during an emergency
Large police force uses SMS for public outreach to help find missing persons

Major insurer eased the load on their call centre by sending pre-emptive messages to clients' mobiles (with links to website solutions) following a flood

Regional employer sends group messages to employees who live in a fire zone, to check on their safety

Small religious school sets up SMS templates to send to parents in case of a bomb threat of safety incident

There are so many ways organisations can use SMS to notify, connect and support during challenging times. To learn how we can help, contact us today.